Frameless Shower Screens Provide You with Imaginative Design and Style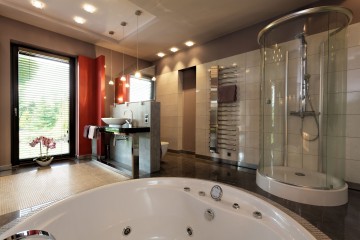 What currently separates the shower in your bathroom from the rest of the space? If it is a shower curtain, you will know just how awkward these curtains can be. Not only do they tend to grow mould and mildew on them when they get wet but also, they can cause a safety hazard if your foot gets caught up in the material, not to mention the slippery drips they can leave on the floor! An alternative would be a shower screen, which can be fitted swiftly and cleaned with ease. For a modern touch, go for the frameless style from All Quality Splashbacks.
Why Frameless?
A frameless shower screen is fast becoming the bathroom enhancement of choice. Designed with toughened glass, these screens can be made to measure and they add the ultimate modern touch to any space. So tough is the glass that it is very resistant to breaking, cracking or shattering, proving them to be a hardwearing choice. They can be combined with various shower trays, offering versatility, and if they are introduced into a bathroom with tile flooring, the frameless style will compliment whatever colour theme is going on.
How to Find a Fitter
When you have decided that frameless shower screens are something that you want to invest in, it will be time to call in the fitters. If possible, hire a fitter who works for the same company that you purchased the bathroom enhancement from. A fitter who also supplies the products they install will be experienced and knowledgeable, so you can depend on them to do the job well and with the right equipment. Using the Internet to compare local tradesmen in your area is a good way to separate the good from the bad. Gather a few quotes before making your final decision and request proof of licenses and insurance to make a safe investment.